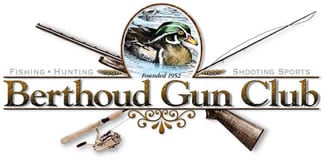 Berthoud Gun Club (BGC) was established in 1952. 
We are a small private (not for profit) club providing our members quality family camping, fishing, hunting and trap shooting experiences.
Objectives: 
Encourage and stimulate interest in hunting, fishing and shooting sports
Engage in conservation of game, fish and other natural resources
Participate in legislation for the protection of the objectives
Our Bylaws restrict membership to not more than 120 members, giving our members more access and less congestion for an enjoyable experience.  If you are interested in general information about the club, use the Contact form to send us a note.
Hunting — Hunting starts with Doves on September 1st, we stop hunting Dove just before Teal Season starts mid-September, don't want to scare off the ducks. We have nine (9) Duck/Goose Blinds and one layout blind on the three lakes. Duck and Goose blinds must be reserved through Blind Captains. The Berthoud Gun Club also provides row boats for our members to retrieve downed birds.
In addition to the lakes we lease property for pit blinds in the Northern Colorado area;  making the hunter a little more stealth.
Fishing — Currently we have three private wakeless lakes we stock annually with Large Mouth Bass, Walleye, Crappie, Catfish and Perch. We also have private access to the about ¾ mile of the St. Vrain River. The St Vrain has eleven different species of fish.
The BCG has row boats to get you out there where the big ones lie. We have a boat ramp at each Lake to launch your own boat.
Prospective Members – click here!
The Berthoud Trap Club  is associated with the Berthoud Gun Club; does not require membership and is open to the public.
New Member Applications
We are currently not taking new member applications from the website and are no longer adding names to our wait list.
Membership quota is full. We are no longer adding names to our wait list.